Orange Tahini Buddha Bowl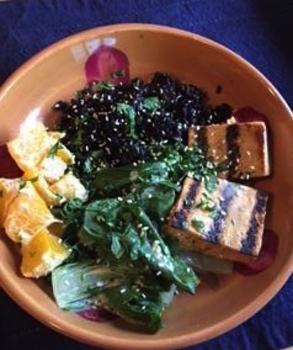 This is recipe is adapted from Isa Chandra Moskowitz's book, "Isa Does It." Isa's recipes are always a slam dunk for me. Easy to use ingredients and no complicated techniques.
This dish is pretty and light, and a perfect summer time supper dish. I used black rice to provide a color contrast against the tofu and bok choy.
Enjoy!
Ingredients
Marinade
½ cup fresh orange juice
2 tablespoons fresh lime juice
2 tablespoons tamari
2 teaspoons toasted sesame oil
2 cloves garlic minced
1 tablespoon minced fresh ginger
1 teaspoon honey or maple syrup
½ teaspoon crushed red pepper flakes
The Rest
1 14 ounce block extra firm tofu, drained and pressed
1 large bunch of bok choy, tough stems removed and chopped
¼ cup tahini
4 cups cooked rice of your choice
2 cups fresh orange segments
Toppings
Chopped scallion
Chopped cilantro
Toasted sesame seeds
Instructions
In a large bowl mix all of the marinade ingredients.
Slice the tofu into 8 pieces. Marinate for about 1 hour.
Grill the squares for 3-5 minutes or until grill marks form, reserve the marinade.
Steam bok choy for about 5 minutes.
Transfer marinade to a blender. Add tahini and blend until smooth. Add salt and pepper to taste.
Place rice in bowl. Top with bok choy, tofu, and orange segments. Drizzile with sauce and top with scallions, cilantro and sesame seeds.