Strawberry Salad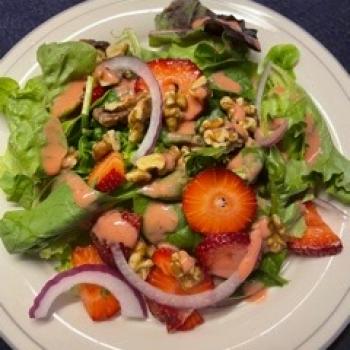 This salad represents some of the best foods of summer! Tender greens and fresh berries. Berries offer a huge nutritional punch. Click here to read more about the power of berries.
The strawberry dressing is so, so good! The recipe makes a little over one cup so you will have plenty of extra.
For the strawberry salad dressing
1 ½ cups sliced strawberries
2 tablespoons maple syrup
2 tablespoons apple cider vinegar
¼ cup olive oil
¼ teaspoon kosher salt
For the strawberry salad
1 cup sliced strawberries
1 handful thin sliced red onion
5 cups baby spinach leaves
3 cups mixed greens
¼ cup chopped pecans, walnuts, almonds or pistachios
¼ cup feta or goat cheese crumbles (optional)
½ cup Strawberry Salad Dressing
Instructions
1. Make the strawberry salad dressing: In an immersion blender, small blender or standard blender, blend all ingredients until smooth.
2. Prepare the salad ingredients: Slice off the tops of the strawberries, then slice them long-wise. Thinly slice the red onion. Wash the spinach and mixed greens. Chop the pecans.
3. To serve, place the greens on plates and top with all ingredients, then drizzle with the strawberry vinaigrette salad dressing (about 2 tablespoons per serving). Refrigerate the remaining dressing for up to 1 week.