White Bean and Swiss Chard Soup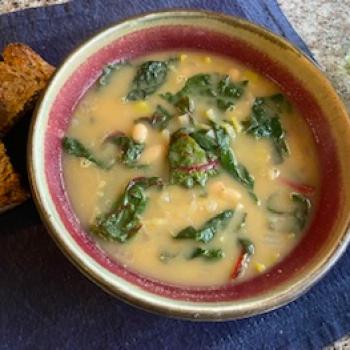 A simple soup with wonderful flavor and plenty of protein and fiber from the beans and Swiss chard. Serve with a hearty piece of bread.
Ingredients
2 tablespoons extra virgin olive oil
2 leeks, washed and chopped
1 large yellow onion, finely diced
2 garlic cloves, minced
1 bay leaf
4 cups vegetable stock
1 15.5oz can Cannellini Beans drained and rinsed
1 bunch Swiss chard, leaves roughly chopped and stems discarded
Freshly ground black pepper
Salt
Instructions
Heat the olive oil in a large heavy pot over medium heat. Add the leeks, onion, garlic, and bay leaf along with a pinch of salt and cook, stirring until soft and translucent, about 10 minutes.

Add the vegetable stock and beans to the pot and turn up the heat. Once the soup comes to a boil, lower the heat and simmer until everything has softened, about 20 minutes. Remove and discard the bay leaf.

Carefully puree 2 cups of the soup in a powerful blender and return it to the pot. Add Swiss chard leaves and cook over medium-high heat just until they have wilted, about 3 minutes. Season the soup with salt and pepper and serve immediately.