Walnut Mushroom Pate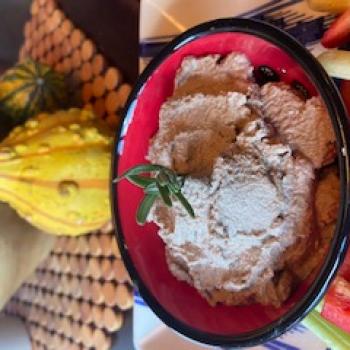 Creamy, rich and earthy. This vegetable based pate is perfect with crackers or toast, or as a dip for fresh vegetables.
Along with something delicious to dip your veggies or crackers in, you are getting B vitamins, riboflavin, niacin, and pantothenic acid from the mushrooms. The combination helps protect heart health. Riboflavin is good for red blood cells. Niacin is good for the digestive system and for maintaining healthy skin. The walnuts are a good source of alpha-linolenic acid (ALA), the plant-based omega-3 fatty acid, which is good for your cardiovascular health.
Walnut- Mushroom Pate
Ingredients
3 tablespoons water
1 cup diced yellow onion
2 cloves garlic
1 teaspoon dried thyme
1 teaspoon dried tarragon
¾ teaspoon salt
freshly ground black pepper
1 pound cremini mushrooms, chopped
1 cup lightly toasted walnuts
¾ cup cannellini beans
1 teaspoon balsamic vinegar
up to ¼ cold veg broth or water
Instructions
Heat 3 tablespoons water in large skillet over medium heat. Add the onions and sauté for 3-5 minutes until translucent, then add the garlic, thyme, tarragon, salt and pepper and cook for another minute. Next add the mushrooms and cook for 7-10 minutes until very soft, lowering the heat if necessary to prevent them from burning. While the mushrooms are cooking, place the walnuts in a food processor, along with the balsamic vinegar and beans and 1 tablespoon of water. Add the cooked mushroom mixture and process until smooth, adding the vegetable broth or water 1 tablespoon at a time. Continue to puree the ingredients until the pate resembles a smooth, thick, and spreadable paste. Scrape the mixture into an airtight container and chill for at least one hour before serving, to allow flavors to meld.