Overnight Steel Cut Oats- Two Methods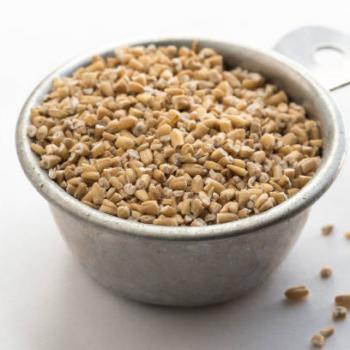 Steel cut oats are less processed than rolled oats and are a great source of fiber, protein and are packed with vitamins, minerals, and antioxidants.
The downside of steel cut oats for me anyway, is they take a long time to cook in the morning, and the pan gets really messy. Enter, the two best short cuts ever! Overnight steel cut oats stove top method and the just mix and cover method.
Oatmeal does not have to be boring, sure it is easy to get into an oatemal rut with the same old banana abd blueberries, but experiement more! Here are some flavor combos you might like. : )
* Apple, cinnamon and walnut
* Cherries, caco powder, and almonds
* Peanut butter, banana, and caco nibs
* Pineapple, coconut and dried mango
Overnight Steel Cut Oats - Stove Top Method- Base Recipe
Instructions
Start by bringing 3 cups filtered water to a boil in a large pot then add 1 cup of steel cut oats and a pinch of salt.
Allow the oats to boil for one minute and then turn the burner off and cover the pot with a lid. Now it's bed time!
When you wake up the next morning, stumble your way into the kitchen and the turn the burner back on to the high heat setting then pour in 1/2 cup to 1 cup (depending on thick you like your oats) of milk and stir together.
As the oats begin to boil, continue to stir intermittently and cook, until about 4-5 minutes have passed. That's it! They're ready to be served warm with your favorite toppings.
Overnight Steel Cut- Oats Just Mix and Cover —Base Recipe
Ingredients
1 3/4 cups milk any kind you like (I use unsweetened almond milk)
1 cup uncooked steel cut oats
Instructions
Combine ingredients in a small bowl and cover.