Three Bean Salad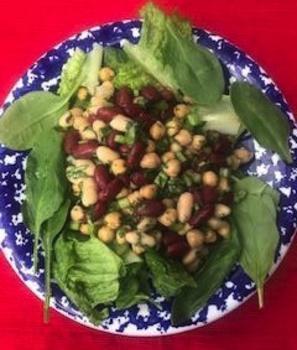 Memorial Day is coming up and this is a perfect salad to bring to a picnic or barbecue. Legumes are a real power food, lots of fiber and protein, and high in vitamin Cand vitamin A. This salad travels well for a lunch on the go. The dressing is wonderful, lots of fresh parsley and a little rosemary along with the nice tang of apple cider vinegar and hint of sweetness from the maple syrup. Serve with greens and piece of a whole grain bread.
INGREDIENTS
1 15-oz can cannellini beans, rinsed and drained
1 15-oz can kidney beans, rinsed and drained
1 15-oz can garbanzo beans, rinsed and drained
1/2 red onion, chopped fine (about 3/4 cup), soaked in water to take the edge off the onion
2 celery stalks, chopped fine (about 1 cup)
1 cup loosely packed, fresh, finely chopped flat-leaf parsley
1 teaspoon fresh finely chopped rosemary
1/3 cup apple cider vinegar
3 Tbsp maple syrup
3 Tbsp EVOO
1 1/2 teaspoons salt
1/4 teaspoon black pepper
METHOD
In a large bowl, mix the 3 different types of beans, the celery, onion (drained of soaking water), parsley, and rosemary.
In a separate small bowl, whisk together the vinegar, sugar, olive oil, salt, and pepper. Add the dressing to the beans. Toss to coat.
Chill beans in the refrigerator for several hours, to allow the beans to soak up the flavor of the dressing.