Tahini Oatmeal Cookies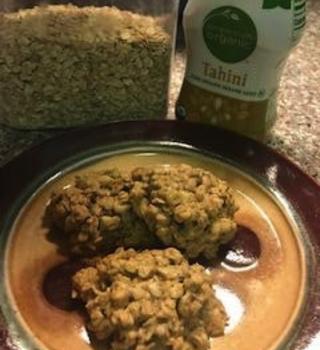 These cookies are delicious and nutrient dense. Tahini is made from sesame seeds and is quite nutrient dense. Just one tablespoon of tahini has 89 calories, 3 grams of protein and 1.4 grams of dietary fiber. In one small serving, men get 4 percent of their recommended daily intake of fiber and 5 percent of daily protein, while women gain 6 percent of their recommended daily intake of fiber and protein. Tahini provides 6 percent of the recommended daily intake of bone-building calcium and 2 to 5 percent of energy-providing B vitamins.
Ingredients
1 cup tahini paste
1 cup pure maple syrup
3/4 cup unsweetened coconut flakes
1/2 teaspoon cinnamon
3 cups gluten free oats
1 cup chopped raw walnuts
Instructions
Heat oven to 375F.
Take a baking sheet and line with a parchment paper.
To a mixing bowl add tahini paste and maple syrup, mix well. In another bowl add coconut flakes, oats, cinnamon, and walnuts.
Pour the dry ingredients into the wet ingredients, and mix well. Take an ice-cream scoop and create an evenly sized cookies, flattened them with wet spatula (to prevent from sticking) and bake for about 10-15 minutes or until the edges gets golden brown.
Let it cool down completely and set before serving.