Summer Soba Noodles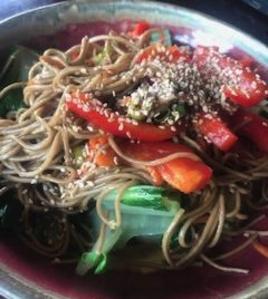 A perfect dinner dish for a hot summer night.
A super nutrient dish dish with bok choy, red peppers, carrots, scallions, buckwheat soba noodles topped with sesame seeds makes this dish high in fiber, calcium, vitamin C, vitamin A, and beta carotene. I often serve this dish with baked tofu or I get the grilled sweet chili tofu from Whole Foods and serve it on the side for a substantial meal.
Ingredients
1 large bok choy, rinsed and chopped
16 ounces soba or buckwheat noodles cooked as directed
1 red bell pepper sliced
3 green onions chopped
2 carrots julienne cut
1 tablespoon peeled minced fresh ginger
5 tablespoons tamari
3 tablespoons maple syrup
3 tablespoons rice wine vinegar
3 tablespoons seasame seeds
Instructions
Bring an inch or two of water to a boil in a sauce pain and cook collard strips until dark and softened. Drain and set aside.
In a large bowl, combine the noodles, carrots and peppers and green onions.
In a small bowl, combine the ginger, tamari, maple syrup and rice wine vinegar. Stir until uniformly mixed, and then pour over noodle mixture.
To serve, place a handful of collards in the base of each bowl and then add noodle mixture. Toss and eat.