Sheet Pan Mexican Veggie Dinner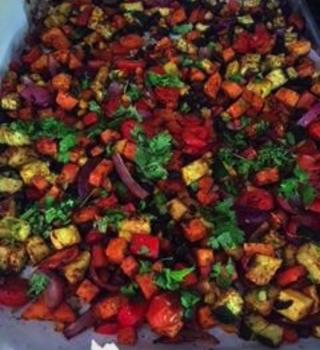 Another winning recipe from Alexis from Hummisapien. Check out her web site here.
I am all about tasty, fast, and flexible. Like you, I am a busy person just trying to stay as healthy as I can so when I cook it has to meet four criteria.
1. It must be nutrient dense.
2. It can't take longer than one hour to make.
3. It has to taste really good.
4. I have to be able to use it in different ways. Over a whole grain, over greens, or tucked into a taco or pita.
This recipe hits all four of my "rules" for weekday cooking. You can serve this in a taco with some other veggies on the side, over cooked brown rice or cold on top of a salad or as Alexis suggests, over a cabbage slaw.
Enjoy!
INGREDIENTS
• 1 medium sweet potato, diced
• 1 small zucchini, cut into half moons
• ½ cup grape tomatoes, sliced
• 1 bell pepper, diced
• ½ small onion, cut into wedges
• 1-15oz can black beans, drained and rinsed
• ½ cup corn (if using frozen, thaw first)
• 1 jalapeño, sliced
• 3 garlic cloves, minced
• 2 tsp chili powder
• 2 tsp cumin
• ¾ tsp sea salt
• ½ tsp oregano
• ½ tsp smoked paprika
• Freshly ground black pepper
For the avocado crema:
• 2 medium ripe avocados
• 3 tbsp lime juice
• ⅓ cup water (more if needed to blend)
• ½ tsp garlic power
• ¼ tsp salt (to taste)
INSTRUCTIONS
Preheat oven to 425F. Line a large baking sheet with parchment paper or spray with cooking spray. Chop all the veggies.
In a small bowl, stir together chili powder, cumin, sea salt, oregano, smoked paprika, and pepper. Set aside.
Placed sweet potato, zucchini, tomatoes, pepper, onion, beans, corn, jalapeño, and garlic on pan in an even layer. Drizzle with oil and sprinkle with spices. Toss to combine.
Bake for 25 minutes, stirring halfway through. Season to taste with additional salt and pepper if needed.
Make crema by combining all ingredients in a high-speed blender.
Serve warm as topped with avocado crema as is, in tacos, or over cabbage slaw.