Roasted Brussels Sprout Salad with Creamy Curry Dressing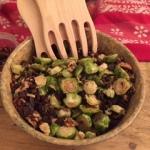 Spending time with good friends, especially over good food, really feeds my soul. My friend Cathy invited Chris and I over for a potluck dinner last night. Cathy made a delicious Vegetable Shepard's Pie, a recipe she found in Bon Appetit Magazine, and Chris brought a Creamy Vegetable Soup and beautiful Apple Rose Pastries for dessert. I will share those recipes once I have them. I brought this delicious and beautiful Brussels Sprout Salad with Creamy Curry Dressing. This would be a wonderful addition to your Thanksgiving menu. Enjoy!!
Recipe created by: Alexis Joseph, MS, RD, LD
Serves: 4-6
INGREDIENTS
For the salad:
6 cups brussels spouts, sliced into halves or thirds
1 tbsp olive oil
½ cup golden raisins
½ cup chopped walnuts
For the dressing:
½ cup water
¼ cup raw almonds
1 tbsp apple cider vinegar
2 pitted Medjool dates
1 tsp fresh ginger
½ tsp Dijon mustard
1 tsp curry powder
¼ tsp turmeric
½ tsp salt

INSTRUCTIONS
Preheat oven to 400F.
Slice ends off brussels sprouts and then slice in halves or thirds. Place in an even layer on lined baking sheet (you may need two). Drizzle with olive oil. Roast for 20-25 minutes, or until browned.
Meanwhile, combine all dressing ingredients in a blender. Blend until completely smooth and creamy.
In a large bowl, combine roasted brussels sprouts, golden raisins, and walnuts. Drizzle the with the dressing and toss to combine.