Raw Chocolate Dream Pie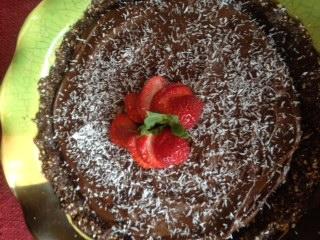 This recipe comes from Dreena Burton of The Plant Powered Kitchen. It is a dreamy creamy chocolaty heavenly treat and it is easy to make. No need to feel guilty making this pie, it is super healthy, made of healthy foods like nuts, dates, avocado, cocoa powder and a little maple syrup. There isn't one person I have made this for who has not loved it. Try it next time you have company over and see. It is best served with fresh berries or mandarin orange slices. I also top the pie with unsweetened shredded coconut. Enjoy!!
Raw Chocolate Dream Mousse Pie
Crust:
1 cup raw almonds
3/4 cup raw pecans
1 cup (lightly packed) pitted dates
2 tbsp raw cocoa powder
¼ tsp (scant) sea salt
1/4 tsp freshly ground nutmeg
1/2 tsp pure vanilla extract (see note)
Filling:
1 cup avocado flesh (cut in chunks or slices, roughly 1 large or 1 – 1/2 medium avocados; be sure they are soft and ripe, not hard)
1/2 cup soaked raw cashews
1/2 cup nut milk (or other non-dairy milk if non-raw)
1/2 cup pitted dates
1/4 cup pure maple syrup
1/3 cup raw cocoa powder
1/2 -1 tsp pure vanilla extract (see note)
1/8 tsp sea salt
Prepare the crust: Place the almonds in a food processor and pulse briefly until fine and crumbly. Add the crust remaining ingredients and process until the mixture becomes sticky. Stop to scrape down the bowl, if needed. The mixture should hold together when pressed with your fingers. If it's still a little dry or not sticking, pulse again, add another date (or two, if small honey dates) and process again. Use 1⁄2 to 1 teaspoon of water, as well, if not using vanilla extract. Transfer the mixture to a glass pie plate (helps to wipe the surface of the plate with a little coconut oil, or line with few strips of parchment paper, just for easier removal). Press the mixture evenly into the pan.
To prepare the filling: Place all the filling ingredients in a high-powered blender and puree for a minute or so on at medium-high speed, until completely smooth and no texture of the cashews remains. Stop to scrape down the blender and redistribute the ingredients. Puree again until very, very smooth—like a velvety pudding. This will take a few starts and stops for scraping down – even with a high-powered blender. Once the mixture is readily churning and smooth, it's ready. Pour the filling into the crust, and tilt and smooth with a spatula to evenly distribute. Refrigerate for a couple of hours to set. (Optionally, you can also freeze the pie and serve at a later time, thawing most of the way before slicing.) Slice and serve.