Raw Cashew Cheese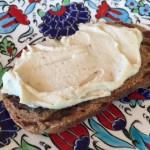 This recipe was given to me by my friend Dennis Young. Super easy and so good!! I made the sweet version as a decadent but healthy topping for sprouted whole grain toast served with a side of berries for breakfast. This sweet version would make a nice dessert dip for fruit.
Enjoy!
Raw Cashew Cheese – Savory and Sweet
Great in lasagna, pizza, on crackers, etc. This is a great replacement for almost anything you would use cream cheese, ricotta cheese, fresh mozarella or the like. You can add stuff to change the flavors (see bottom of page for some examples)
1 1/2 cups raw cashews (or raw cashew pieces – much less expensive)
1/3 cup water
2 teaspoons lemon juice (roughly juice of ½ lemon)
1 cloves garlic
1/2 teaspoons sea salt
Put the cashews in a bowl and cover with enough water to cover the nuts by about two inches. Let soak for 2+ hours (overnight is fine) and then drain and rinse. If you don't have 2 hours, boil 3 cups of water and pour over the raw cashews and let sit for about ½ hour. Then drain and rinse quickly.
Combine the cashews, water, lemon juice, garlic cloves and sea salt in a food processor and blend. Scrape down the sides and blend again until completely smooth, 5 minutes or more depending on how good your processor is.
Put your "cheese" in a small bowl or Tupperware and cover it. Let stand at room temperature for 24 hours to let the flavors meld and ferment a bit. After 24 hours, put the cheese in the refrigerator covered for up to 5 days. You can flavor it any number of ways with herbs and spices that you like.
To make a sweet version, replace the garlic with a couple of pitted dates or a tablespoon or so of honey, maple syrup, sugar, stevia or other sweetener of your choice to taste.
To make it a bit more tangy – if you are ok with nutritional yeast, add a tablespoon or two.