Raspberry Chia Jam Bars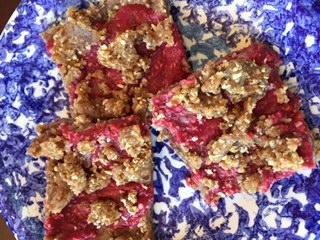 I made these bars for my students in my Foundation Training Class. This coming week is the last week of the series and I want to bring them a healthy treat. If you are like me and LOVE jams but would also like to reduce sugar, chia seed jams are something to explore.
February is heart health month and these bars will make your heart happy with all of the whole food ingredients, they are nutrient dense and high in fiber. These bars are not going to travel well but are better enjoyed while relaxing with a cup of tea.
Enjoy!
Ingredients
For the raspberry chia jam
1 cup raspberries
1 teaspoon honey
1 teaspoon lemon juice
1 tablespoon chia seeds
For the bars and crumble topping
1 cup rolled oats
1 cup walnuts
1 1/4 cup pitted Medjool dates
1 teaspoon of vanilla extract
1/2 teaspoon sea salt
Preparation
1 Place the chia jam ingredients in a food processor and process until smooth. Set the jam aside to thicken in a separate bowl for about 15 minutes while you prepare the bars.
2 Rinse the food processor. Pulse the oats in the food processor until they become the texture of coarse flour. Add the walnuts, whole vanilla bean and salt. Turn the processor on and with the motor running, add the dates through the feeder one at a time until the mixture is uniform in texture.
3 Evenly press 3/4 of the mixture in an 8-inch by 8-inch square pan, reserving the other 1/4 as the crumble topping.
4 Spread the chia jam over the mixture in the pan. Sprinkle with the remaining crumble topping. Cover and refrigerate for at least one hour before cutting into bars. Store bars in the refrigerator.
Recipe from www.nourishtheroot.com