Post Workout Pumpkin Bars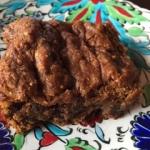 I love these bars inspired by Alexis at Hummusapien. After a long workout, meaning an aerobic workout that takes over an hour, it is a good idea to refuel with a little snack that is high in complex carbohydrates to replenish glycogen stores lost during exercise and a bit of protein to aid in muscle repair. These bars do the trick and they sure beat some of those cardboard like "recovery bars." These bars are full of healthy ingredients but they are high in calories so, all you will need is a small piece after a workout. The recipe calls for chips or walnuts. I used both. Enjoy!
INGREDIENTS
¾ cup creamy almond butter
½ cup pumpkin puree
1 overripe medium banana
¼ cup pure maple syrup
1 tsp vanilla extract
3 tbsp spelt or whole wheat flour
1 tsp pumpkin pie spice
1 tsp cinnamon
1 tsp baking soda
¼ tsp salt
⅓ cup chocolate chips and/or walnuts, optional

INSTRUCTIONS
Preheat oven to 350F. Spray an 8x8in square baking dish with cooking spray.
Place almond butter, pumpkin, banana, maple syrup, and vanilla in a medium bowl. Stir until well-combined.
Add the rest of the ingredients, stirring until smooth.
Pour into prepared baking dish, smoothing with a spatula. Bake for 30 minutes or until a knife inserted into the center comes out clean.