Persian Inspired Oats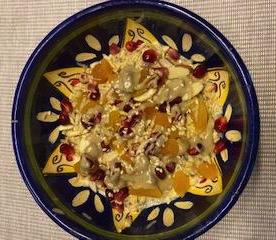 Oatmeal does not have to be boring! Try this flavor combo; pomegranates, sliced almonds, dried apricots, tahini, and topped with sesame and honey. This is soooo good! You know pomegranates are a super food, but did you know that tahini, which is basically sesame butter is high in fiber, protein, B vitamins and calcium?
To Make a Single Serving of Overnight Oats...
Place 1/2 cup thick cut rolled oats and 1/2 cup almond or soy milk along with 1 teaspoon of either chia seeds or ground flax seed in your cereal bowl the night before. Place bowl in the refrigerator.
The Persian Flavor Combo..
In the mornig, take the bowl out of the fridge, add a little more milk if you want and then micorwave until oats are warm. Now add chopped dried apricots, pomogranate seeds, sliced almonds, warmed tahini, and then top with a bit of honey/maple syrup, and seasame seeds. Dig in!