Pecan Ball Subs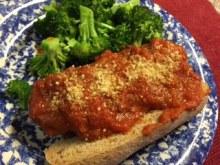 This is a recipe I tested for The China Study cookbook. I don't think it made the book but it should have because these little gems are delicious. Pecan Balls are a fantastic substitute for meatballs. I make a batch and then make spaghetti (either pasta or spaghetti squash) and "meat balls" and then have them in a sub the next night. I like a whole grain sub roll and then add what I like to use as a substitute for parmesan, ground cashews. They are also wonderful crumbled up on a lunch time salad. Versatile, easy and delicious!
Pecan Ball Subs
Preparation time: 15 minutes
Baking time: 30 minutes
Ingredients:
1 pound extra-firm tofu
1/2 cup pecans
1/2 cup raw oats
1/2 cup diced onions
2 cloves garlic, minced
1 teaspoon thyme
1 teaspoon tarragon
2 tablespoons light soy sauce or tamari
1/3 cup ketchup
2 tablespoons vegan Worcestershire sauce
1/2 cup bulgur (cooked in 1 cup water)
1/2 cup tortilla crumbs or any non-fat breadcrumb mixture
marinara sauce
whole wheat sub sandwich buns
Instructions:
Preheat oven to 350 degrees.
In food processor, blend tofu, pecans, oats, onions, garlic cloves, thyme, tarragon, soy sauce, ketchup and Worcestershire sauce. Place in large bowl.
Mix in cooked bulgur and breadcrumbs.
Roll into balls, and place on a non-stick cookie pan.
Bake for 30 minutes.
Place bulgur balls in sub buns and top with marinara sauce.