Pecan and Sage Stuffed Acorn Squash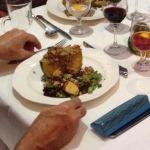 A wonderful recipe created by Chef Martin Oswald. This dish presents really well and looks great with a colorful salad on the side. Consider serving just one half of the stuffed squash, this dish is very filling. This dish was served to the Younger Next Year group for Meatless Monday and feedback was very positive. A great dish to prepare if you are having guests.

Ingredients
1 large acorn squash
1 shallot, diced
2 cloves garlic, diced
1/4th cup celery, diced
¼ cup red peppers diced, reserve 1 tablespoon for garnish
½ cup quinoa, cooked as per directions
2 tablespoons pecans, chopped
1 tablespoon Balsamic vinegar
1 tablespoon nutritional yeast
2 tablespoons raw cashews blended in about 2 tablespoons of water (or 2 tablespoons cashew butter)
2 teaspoons fresh sage, chopped
1/4 cup dried unsulfured apricots, diced
pinch of cayenne
Instructions
Cut acorn in half, remove seeds, and bake face down in ½ inch water for 45 minutes at 350 degrees F.
Sweat garlic, shallots, celery, and pepper for 5 minutes in a large pan. Add quinoa, pecans, vinegar, nutritional yeast, cashew butter, sage, apricots, and cayenne. Combine the mixture and stuff the acorn squash. Bake the stuffed acorn squash for 15 more minutes and serve with a sprinkling of diced peppers on top.