Peanut Butter Cup Puffed Rice Bars by Minimalist Baker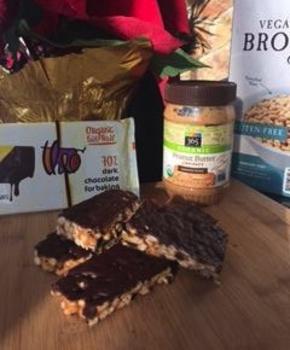 Peanut butter and dark chocolate are one of my favorite flavor combinations. This healthyish candybar recipe is from the Minamilist Baker's cookbook, "Everday Cooking." Like you, I am in full on holiday cooking mode and these bars will find their way to some of my chocolate loving clients and friends. The bars do better if you can keep them refrigerated as they get a bit soft if left at room temperature for too long. Enjoy!
Ingredients
1 cup salted natural peanut butter
1/2 cup maple syrup
1/4 cup finely chopped and packed dates
3 1/2 cups puffed brown rice
2 tablespoons sunflower seeds
1 cup dark chocolate, at least 70% cacao
Instructions
Line an 8x8 inch baking dish with parchment paper.
Add the peanut butter and the maple syrup to a small saucepan over medium-low heat. Stir to combine. Transfer to a large bowl and add chopped dates.
Use a wooden spoon to mix/mash. Add the puffed rice cereal and sunflower seeds and mix until the dry and wet ingredients are well incorporated.
Transfer the mixture to the prepared baking dish, and spread to an even layer. Lay a piece of parchment paper on top and use a drinking glass to press down into and even, very compact bar.
Place the mixture in the freezerto firm up for about 10-15 minutes. In the meantime, heat the chocolate in the micowave for about 30 second intervals to melt. Set aside.
Remove the mixture from the freezer and lift it from the baking dish. Transfer it to another parchment lined baking sheet.
Drizzle on the majority of the chocolate and use a brush or small spoon to spread the chocolate into an even, solid layer.
Return the mixture to the freezer for another 15 minutes. Then remove it gently flipping it over, and drizzle the top with the remaining chocolate.
Return the mixture to the freezer for 10 minutes or until the chocolate is firm. Then chop it into 16 squares.
Store in an airtight container in the refrigerator for 3-4 days, or in the freezer for up to one month.