Pasta Al Forno with Broccoli and Cauliflower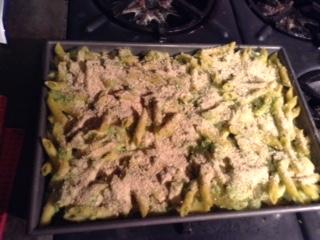 This recipe comes from my beautiful niece in law Miriam Amico. Miriam is married to Randy's nephew Mitch and was born and raised in Sicily. The first time I had this dish was when we were at a family gathering in Carlsbad, California, and Miriam and Mitch cooked this dish for us for dinner one night. This dish is pure deliciousness. I thought I had died and gone to heaven after just one mouthful!
She served this dish with a salad of orange, fennel and onion flavored lightly with a bit of salt and olive oil. So good!! You have to try it.
PASTA AL FORNO WITH BROCCOLI AND CAULIFLOWERS
Pasta al forno with vegan creamy broccoli sauce and vegan béchamel
Enough for 5-7 people (it depends on how hungry they are!)
INGREDIENTS
1 Broccolo
1 Cauliflower
400 gr. of pasta or 1 lb. (must be short, like shells, orecchiette, penne, etc…)
1 Onion
Breadcrumbs
FOR THE BÉCHAMEL:
2 Tablespoonsspoons of flour
2 Tablespoons spoons of olive oil
Salt
Nutmeg
300 ml of milk (almond or soy)
INSTRUCTIONS
Cut, boil (for about 5 minutes) and then stir-fry the broccoli in a pan with half of the onion. After it is cooked put it into the Vitamix and blend it with some warm water (that you saved after boiling the broccoli) and little spoon of olive oil. The ideal result is a thick sauce with small chunks of broccoli.
In the meantime, you boil and stir fry the cauliflower with the other half of onion.
FOR THE VEGAN BÉCHAMEL:
In a saucepan pour 2 spoons of olive oil and 2 spoons of flour. Mix them until smooth and without lumps. Turn on the fire and add slowly and little by little the vegan milk. Add a pinch of salt and nutmeg. Stir constantly with a wooden spoon until the béchamel becomes thick.
Mix the béchamel with the broccoli sauce.
Cook the pasta (very al dente, it will cook in the oven eventually), strain it and put it again in the pot, where you will also combine the broccoli/béchamel sauce and the stir-fried cauliflowers. Mix everything very well and move the pasta to a casserole. Spread breadcrumbs all over the pasta.
In the meantime, lit the oven at 375 degrees, when it's hot, put in the casserole and let the pasta cook for 20/25 minutes, until breadcrumbs are golden.
When pasta is ready, let it rest for 5 minutes.
Enjoy!