Pan Fried White Beans with Lemony Kale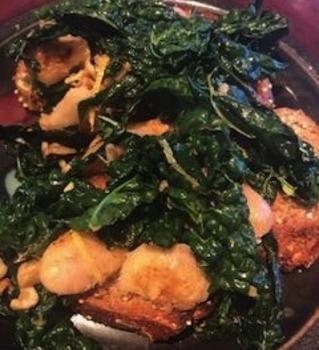 Sometimes I think you all must think I am the laziest cook on the planet because every recipe I post contains the words easy, and fast. I will be staying with the easy and fast theme with this recipe as well. : ) This is the perfect thing to make if you want a fast nutritious lunch at home or just want to throw something nourishing together after work. I highly recommend a hearty whole grain bread as the toast to serve the beans and kale over. I used the "Sprouted Seeduction Bread," at Whole Foods. This recipe is inspired by Heidi Swanson, a phenomenal recipe developer and food photographer. Check out her blog here.
Ingredients
1/2bunch (6 ounces / 170 grams) dinosaur kale or lacinato kale, stems removed
2 tablespoons extra-virgin olive oil
2 handfuls to 3 big handfuls of cooked large white beans (like coronas, limas, or gigante beans)
1/4teaspoon fine grain sea salt
1/3cup walnuts, lightly toasted and chopped
1 clove garlic, minced
1/8teaspoon freshly grated nutmeg
1 tablespoon fresh lemon juice
1 lemon zested

Directions

1. Chop the kale, wash it, and shake off as much water as you can. Set aside.
2. Heat the olive oil over medium-high heat in the widest skillet you own. Add the beans in a single layer. Stir to coat the beans, then let them sit long enough to brown lightly on one side, about 3 or 4 minutes, before turning to brown the other side, also about 3 or 4 minutes. The beans should be golden and a bit crunchy on the outside.
3. Add the kale and salt to the pan and cook for less than a minute, just long enough for the kale to lose a bit of its structure. Stir in the walnuts and garlic, wait 10 seconds, then stir in the nutmeg. Wait ten seconds and stir in the lemon juice and zest.