No Knead Dutch Oven Whole Wheat Bread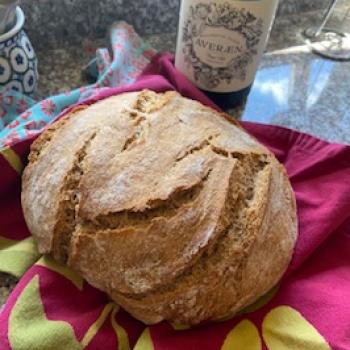 I made this bread for the first time during our stay ay home order this past spring. I was going to share the recipe then, but because everyone had the same idea I did and was baking bread at home, yeast became even more difficult to find than toilet paper. I thought I would wait until fall when the weather changed, and yeast was back in stock, and we were thinking about making soup and winter salads. There is nothing more comforting than a bowl of homemade soup and piece of homemade bread to go with it.
I promise this will be the easiest loaf of bread you have ever made. There are only four ingredients, flour, yeast, salt and water. Truly, there is NO kneading and no mess! You simply stir the ingredients into a bowl, let it sit covered over night, shape it in the morning, throw it in a dutch oven and bake in the oven and you end up a beautiful and delicious loaf of bread!