My Go To Smoothie Recipe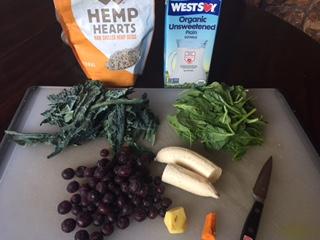 My "Go To" smoothie is full of foods that will help fight inflammation that causes DNA damage, promotes healthy blood vessels and is full of cancer fighting antioxidants. You will also get a good shot of fiber and protein. Play with the ingredients. I use a banana to create some texture and little sweeteness. I love ginger so I use alot of it. Tweek the recipe to make it work for you. I make a batch of this in the morning and then drink from it all morning. Enjoy!
Ingredients
1 big handfull of kale leaves with stems removed
1 big handful of spinach
1 cup of frozen blueberries
1 banana
2 tablespoons of hemp seeds
1 1 inch peeled fresh tumeric root
1 2 inch peeled fresh ginger root.
1/2- 1 cup non sweetened soy milk
water for consistency
Instructions
Place all ingredients into a high powered blender like a Vitamix.
Process until all ingredints are combined
Add water or more soy milk to create the consistency you like.