Meet Albert Sanford!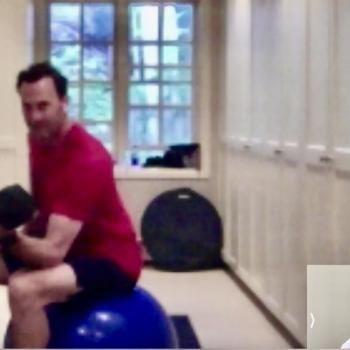 Albert and I have been working together for about 8 years, and since the pandemic hit, we have been training virtually.
Albert owns and operates the very best art gallery in Aspen called Gallery Maximillian, he has two ADORABLE dogs named Hank and Lucy, he loves travel, mountain biking and skiing.
I love working with Albert because he is bright, funny and is very committed to staying strong to stay out of pain so he can do what he loves to do. He is a pleasure to know and work with, I just love this guy!
"Virtual training with Dawn Shepard has not only been an unqualified success but it may be even better than going to the gym, especially during this time of uncertainty with the Covid Health Crisis."- Albert Sanford
As always, Dawn has one goal in mind which is to work hard for the client to create the same rotation of challenging exercises that give me a safe and effective full body workout. I was able to set up a "home gym" easily and simply with her at very little expense using a variety of rubber bands in different tensions, a bosu, a swiss ball, a mat, a foam roller and a few dumbbells. Dawn has architected specific exercises that work the same joints and muscle groups as if I was in the gym.
Technologically, it's pretty simple too. I use Facebook Messenger on Google Chrome with my laptop that Dawn discovered is the best connection. She can see everything I am doing and make corrections/adjustments as needed. I use my wireless, bluetooth connected AirPods that puts Dawn in my ears and really makes it seem like she's there. I've also put on my favorite Spotify playlist which makes the workout sail by.
Other unintended advantages are no driving time, the ability to groom or not groom, I can wear the same t-shirt that I woke up in and my dog can watch me which gives us even more time together. Of course, I miss seeing Dawn in person and getting the occasional hug of encouragement and support from her but I still get to see her beautiful smile and hear her cheerful voice, just on my computer screen.
For anybody looking to continue an effective, professional, and fulfilling workout during these challenging times, I highly recommend virtual training with Dawn Shepard.
Albert Sanford