Mediterranean Pasta Salad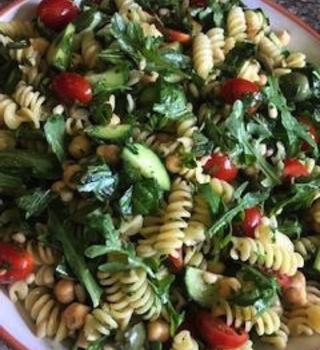 A delicious Mediterranean Pasta Salad inspired from a recipe from Love and Lemons. I have served this salad to guests a number of times this summer and is has always been a winner. You can substitute feta cheese for the avocado if you like. I think it would be fun to try different kinds of short pasta for this recipe. If you try a different flavor, let me know how it works!
I think the perfect dessert to folow this salad is some grilled peaches topped with a bit of honey. Enjoy!

INGREDIENTS
3 cups uncooked fusilli pasta
2 heaping cups halved cherry tomatoes
1 ½ cups cooked chickpeas, drained and rinsed
2 cups arugula
1 cup English cucumbers, sliced into thin half moons
1 cup thickly sliced avocado
1 cup basil leaves, torn
½ cup minced parsley
½ cup chopped mint
¼ cup toasted pine nuts
Dressing
¼ cup extra-virgin olive oil, more for drizzling
3 tablespoons lemon juice
1 teaspoon Dijon mustard
3 garlic cloves, minced
¼ teaspoon red pepper flakes
¾ teaspoon sea salt
INSTRUCTIONS
1. Bring a large pot of salted water to a boil. Prepare the pasta according to the package directions, or until slightly past al dente.
2. Meanwhile, make the dressing. In a small bowl, whisk together the olive oil, lemon juice, mustard, garlic, red pepper flakes, and salt.
3. Drain the pasta, toss it with a little olive oil (so that it doesn't stick together) and let it cool to room temp. Transfer to a large bowl with the tomatoes, chickpeas, arugula, cucumbers, feta cheese, basil, parsley, mint, and pine nuts. Pour the dressing and toss to coat. Season to taste with more lemon, salt, pepper, and/or a drizzle of olive oil, if desired, and serve.