Kale Salad Inspiration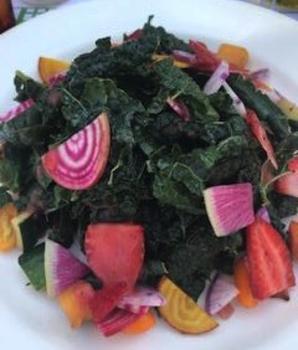 I have been in Mexico the past week enjoying some warm weather and beach after our big snow season in Aspen. It has been great to relax, read, get some good workouts inside and outside, enjoy the ocean, and of course enjoy the local cuisine. We had dinner last night at Flora Farms in Cabo and it was an amazing experience. They raise all of their own food, everything is organic and they literally make everything there, including all of the furniture!
Click here to learn more about Flora Farms
I had the most gorgeous kale salad, it was not only beautiful but so delicious and our server Juan said that everything was picked that day.
Ingredients
Kale
Sliced strawberries
Roasted golden beats
Roasted zucchini
Watermellon radishes
Smashed strawberry vinaigrette
Instructions (suggested)
To make the vinaigrette, I would use a basic vinaigrette and add smashed strawberries until you get desired consistency.
Cut kale into bite sized pieces and massage the vinaigrette into the kale.
Add and arrange vegetables and sliced strawberries.