Island Back Bean Bowl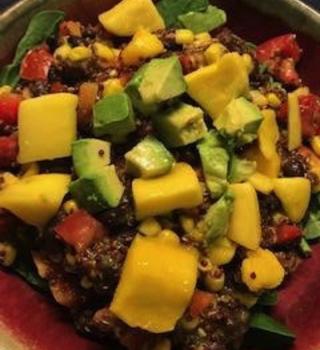 Ok, I am really into "bowls" lately. I love them because you can get really creative and they come together quickly. I think about building them like this.....
Start with a grain, such as rice, farro, quinoa, millet, barley or a non grain but something starchy like a potato.
Add a vegetable protein like beans, tofu, seitan, or tempeh.
Add at least three vegetables. One of my vegetables is almost always a leafy green.
Top or mix with a sauce. Salsa, guacamole, teriyaki sauce, peanut sauce, red pepper sauce, or in this case, a mango sauce.
Top with an herb, parsley, thyme, cilantro, rosemary sprig etc. Also think about topping with a seed for more nutrition and crunch like sesame seeds, pepitas, peanuts, pine nuts, sliced almonds etc.
Here is the recipe for Isalnd Balck Bean Bowl
Ingredients
1 cup quinoa
1 15 ounce can black beans, drained and rinsed
1 cup white sweet corn, frozen and thawed
2 tomatoes, chopped
1 red pepper, diced
1 cup ripe or frozen mango
1 avocado diced
¼ cup raw pepitas
1 cup mango dressing, recipe follows
8 ounces baby kale
Instructions
Cook quinoa as directed.
Put the black beans and corn in a glass bowl and microwave until heated through.
In a large bowl, combine the quinoa, black beans, corn, tomatoes, and pepper and mix well.
Add the dressing and stir through. (Recipe follows)
Place a handful of baby kale into each bowl. Add bean and quinoa mix.
Top with diced mango, avocado and pepitas.
Island Dressing
3 tablespoons fresh lime juice
1 mango, peeled and pitted or 1 cup frozen mango
2 green onions
2 tablespoons chopped basil
1 tablespoon minced jalapeno
½ teaspoon ground cumin
Put all ingredients into a food processor or high powered blender and combine until smooth