Homemade Almond Milk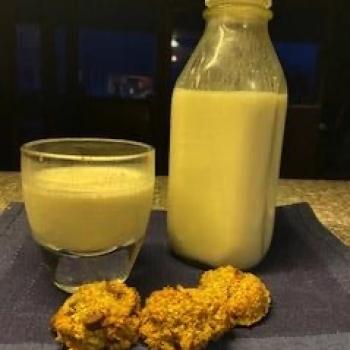 When Randy and I were in Telluride last February, we stayed with our friends Bill and Cheryl. Cheryl put out the most divine almond milk that she makes herself. It was just the right amount of creamy and just a little bit sweet. Pure perfection. So, when I got home I started experimenting. I have posted a recipe for you to try. It is wonderful in coffee, or just drinking a glass to wash down some cookies.
I recommend buying a Nut Milk bag, they are very inexpensive and you can order one on Amazon. You can also use an old tea towel, but the Nut Milk Bag make it an easy process. Play with the amount of sweetener, either maple syrup or maybe a date or two blended in the Vitamix.
Ingredients
1 cup raw almonds (soaked overnight in cool water)
4 cups filtered water (less to thicken, more to thin)
1 pinch sea salt
2 whole dates or maple syrup to taste
1 tsp vanilla extract
Instructions
Add your soaked almonds, water, salt, and any additional add-ins (optional) to a high speed blender and blend until creamy and smooth. Keep it running for at least 1-2 minutes so you get the most out of your almonds.
Strain using a nut milk bag or a thin dish towel. If you use a dish towel, lay a clean dish towel over a mixing bowl, pour over the almond milk, carefully gather the corners, and lift up. Then squeeze until all of the liquid is extracted. Discard pulp.
Transfer milk to a jar or covered bottle and refrigerate. Will keep for up to 4-5 days, though best when fresh. Shake well before drinking, as it tends to separate.