Festive Apple and Cranberry Pie with Cardamon Kissed Cashew Cream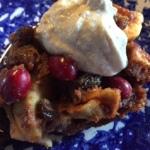 This recipe is inspired by a recipe that Christina Miller shared with me a few years ago. It is cranberry season so I wanted to include them in my pie. Apples, cranberries and lemon all go nicely together and the cranberries provide beautiful color and a nice tart taste that contrasts nicely with the sweet apples. Since this pie does not contain any added sugar or oil, you can feel virtuous having this dessert for breakfast. Try warming it up and enjoying it with your morning cup of coffee. Enjoy!
Festive Apple and Cranberry Pie
Ingredients
For the crust:
1 cup raw almonds (may substitute other nuts; I used 1/2 cup almonds, 1/4 cup pecans, 1/4 cup walnuts)
1 teaspoon finely ground chia seeds
1 cup pitted dates
2 teaspoons water
For the pie filling:
1/2 cup water
1/2 cup pitted dates
1 apple, peeled, cored, and chopped
2 teaspoons finely ground chia seeds
2 cups fresh cranberries
4 medium apples, peeled, cored, and sliced
2 teaspoons cinnamon
1/2 cup raisins
Instructions
For the crust, combine the raw almonds and the first batch of chia seed powder in a food processor. Pulse until finely ground. Add the dates and water and process until the mixture gathers into a ball. Press the mixture to form a thin crust in an 8 or 9 inch glass pie plate.
Prebake the crust for 5 minutes at 250 F.
To make the filling, combine the water, pitted dates, chopped apple, and second batch of chia seed powder in a blender. Blend until smooth. In a large mixing bowl, combine the date mixture with the blueberries, sliced apples, cinnamon, and raisins. Mix well. Spoon the filling into the pie crust and bake at 200 F for 1 1/2 hours. Chill before slicing.
Cardamon Kissed Cashew Cream
Ingredients
1/2 cup water
1/2 cup raw cashews
2-3 Medjool dates
1/2 teaspoon ground cardamon or to taste
Instructions
Blend all ingredients together in high-power blender. Stop and scrape the sides and reblend until creamy. Can adjust amount of water, cashews, or dates for desired sweetness and consistency.