Fall Feast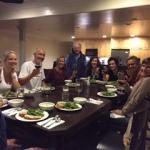 I am in Carlsbad California for our annual fall trip to be with friends and family. We rent a house on the beach and everyone comes from various parts of the state to be together. Everyone takes a turn cooking each night, sharing food with people you love is a wonderful way to feel connected. Last night, Randy and I did the cooking and I am going to share the recipes with you. Enjoy!!
Rosemary and White Bean Dip, Cream of Celery Root Soup, Fall Super Food Salad, and Apple Crisp with Cashew Cream.
I have posted the White bean Dip and Fall Super Food Salad below. I posted The Cream of Celery Root Soup on my blog about two years ago, you can find it through the search function. The Apple Crisp recipe is from Christina Miller, click here for the recipe. http://www.eatandlivehealthfully.com/recipes.html
Rosemary-Lemon White Bean Dip
Yield 2 cups
Time: 10 minutes using precooked or canned beans
Ingredients
2 cups cooked white beans, like cannelini, drained but moist
1 to 3 cloves garlic, peeled
Salt and freshly ground black pepper to taste
1/4 cup plus 1 tablespoon extra virgin olive oil
2 teaspoons minced fresh rosemary
Grated rind of 2 lemons
Instructions
Put the beans in the container of a food processor with 1 clove of garlic and a healthy pinch of salt. Turn the machine on, and add the 1/4 cup olive oil in a steady stream through the feed tube; process until the mixture is smooth. Taste, and add more garlic if you like; then, puree the mixture again.
Place the mixture in a bowl, and use a wooden spoon to beat in the rosemary, lemon zest and the remaining tablespoon of olive oil. Taste, and add more salt and pepper as needed. Use immediately, or refrigerate for as long as 3 days.

Fall Super Food Salad
Packed with the best of fall produce, this tasty superfood salad with orange cinnamon vinaigrette is the perfect light lunch.
By: Alexis Joseph, MS, RD, LD
Serves: 4
INGREDIENTS
For the salad:
½ butternut squash, cubed
1 tbsp coconut oil, melted
½ tsp cinnamon
¼ tsp sea salt
5 oz pkg baby kale
1 pomegranate, de-seeded
½ cup chopped pecans
½ bunch green onions, chopped (or ½ small red onion, sliced)
3 tbsp Hemp Hearts
For the dressing:
⅓ cup orange juice
2 tbsp olive oil
1 tbsp Hemp Hearts
1 tbsp pure maple syrup
¼ tsp cinnamon
¼ tsp salt
Freshly ground black pepper
INSTRUCTIONS
Preheat oven to 400F.
Place cubed squash on a lined baking sheet. Drizzle with oil, cinnamon, and salt. Toss to combine. Roast for 30 minutes.
Meanwhile, place kale, pomegranate, pecans, onions, and Hemp Hearts in a large bowl. Set aside.
Place all dressing ingredients in a blender (I used my Nutribullet). Blend until smooth and creamy.
Add baked squash to salad bowl, Drizzle with dressing and toss to combine. Season with salt and pepper to taste.