Easy Berry Jam That is Also Really Good For You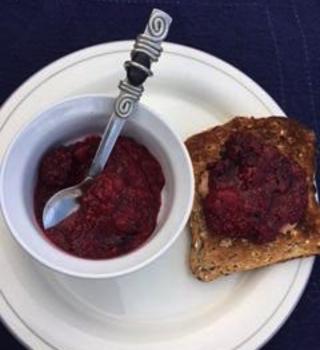 This recipe is adapted from a recipe I found on the Cookie and Kate food blog. It could not easier and offers a big nutritional punch. I use this jam on toast, added to plain yogurt, or as a topping for pancakes.
Frozen berries, chia seeds and a few drops of maple syrup and you have jam. Blueberries are packed with antioxidants, called anthocyanins, that may help keep memory sharp as you age, and raspberries contain ellagic acid, a compound with anti-cancer properties. Berries are also high in fiber, supporting healthy digestion. Chia seeds are an excellent source of omega-3 fatty acids, which help to raise HDL cholesterol. HDL is the "good" cholesterol that protects against heart attack and stroke. Chia seeds are also rich in antioxidants, and they provide fiber, iron, and calcium.
Ingredients
1 10 ounce bag of thawed frozen berries of your choice
2 tablespoons chia seeds
maple syrup to taste
Instructions
Drain excess liquid from berries and place them in a bowl.
Mash berries
Add chia seeds and stir
Cover and refrigerate