Delicious Chickpea Lunch Salad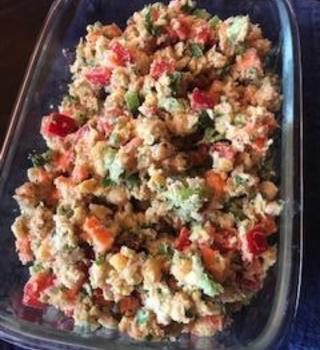 Looking for easy and delicious lunch ideas?
Look no further! This salad travels well and packs a big nutritional punch. High in fiber and protein, this salad will hold you all afternoon. I like it over mixed greens or in a wrap.
This recipe is based on a recipe from, "The Vegan Table," Colleen Patrick-Goodreau.
Ingredients
2 cans (15oz) chickpeas, drained and rinsed
½ cup eggless mayonnaise (or to taste) I like Just Mayo
1 medium red pepper, finely chopped
2 carrots, peeled and finely chopped
2 celery stalks, finely chopped
2 tablespoons parsley, finely chopped
1 cup walnuts, chopped
1 tablespoon Dijon mustard
salt and pepper to taste
Directions
Grind chickpeas in a food processor or blender down to small flaky pieces.
In a large sized bowl, combine first 8 ingredients and mix well. Season with salt and pepper.
Yield: 4-6 servings