Cream of Mushroom Soup with Shitake Bacon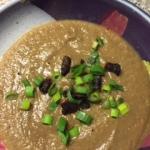 Oh boy is this soup good. The recipe comes from a fabulous food blog called Making Thyme for Health. This soup has such a strong mushroom flavor and the creaminess comes from pureed cauliflower so even though it seems rich is won't leave you feeling overloaded. I used portobello mushrooms because City Market was out of everything else except for white button mushrooms. A combination of mushrooms would be really good. The shiitake bacon is interesting, Randy was more enthusiastic about it that I was. This recipe is a keeper for me. I made the Fall Super Food Salad that I posted a few weeks ago and it went nicely with this soup. Enjoy!
INGREDIENTS
For the Soup
2 tablespoons extra virgin olive oil or water
2 shallots, diced (approx. 1 and 1/2 cups)
2 celery stalks, diced (approx. 1/4 cup)
4 garlic cloves, minced (approx. 1 tablespoon)
16 ounces mushrooms, diced (approx. 4 cups)
1/2 teaspoon salt
1 teaspoon black pepper
1 teaspoon dried oregano
1 teaspoon dried thyme
1/4 cup sherry vinegar
1 tablespoon tamari sauce (or soy sauce)
4 cups cauliflower florets
3 cups vegetable broth
1/2 cup unsweetened plain almond milk (or soy milk)
chopped chives for topping
Crispy Shiitake Bacon
1 cup sliced shiitake mushrooms
3 tablespoons olive oil
2 tablespoons tamari (or soy sauce)
2 teaspoons smoked paprika
1/2 teaspoon salt & pepper
INSTRUCTIONS
Begin by warming the olive oil in a large pot over medium-low heat. Add the shallot and the celery and cook for 3 minutes, until fragrant.
Add the garlic and the mushrooms to the pot then sprinkle with salt & pepper. Sauté for another 3 minutes then add the oregano, thyme, and sherry vinegar. Bring to a low boil and allow to cook for 5 more minutes.
Next, add the cauliflower florets and pour in the tamari sauce and vegetable broth. Bring to a low boil and cook for about 15-20 minutes, until the cauliflower is very soft. Remove from the heat and set aside.
Once the pot has cooled down, transfer the mixture to a blender along with the plain almond milk. Alternatively, you can leave everything in the pot and blend with an immersion blender. If you like bits of mushroom in your soup then you can separate about 1 cup and set aside before blending. Blend until smooth then transfer back to the pot to reheat.
To make the shiitake bacon, preheat the oven to 400°F then line a baking sheet with parchment paper. Whisk together the olive oil, tamari, salt & pepper, and smoked paprika in small bowl. Add the shiitake mushrooms and stir until they are well coated. Transfer them to the baking sheet and bake for 15 minutes on each side, until brown and somewhat crispy. Serve on top of the soup with fresh chives and enjoy!