Cold and Creamy Cucumber Soup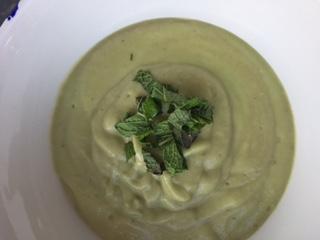 Cold soups are so refreshing during the hot summer months. The avocados make the soup creamy and gives it some substance and the color is beautiful. This recipe has been adapted from Gwyneth Paltrow's cookbook, "It's All Good."
I garnished the soup with chopped mint, but chives would also work nicely. This soup comes together in no time because everyting is thrown into the Vitamix.
Ingredients
2 fresh limes, grated and juiced
2 ripe avocados, peeled and roughly chopped
2 cucumbers, peeled, seeded and roughly chopped
Salt to taste
Intsructions
1. Place all ingredients in the Vitamix and blend until smooth.
2. Add water until desired consistency
3. Garnish with chooped herbs of your choice