Coconut Turmeric Bread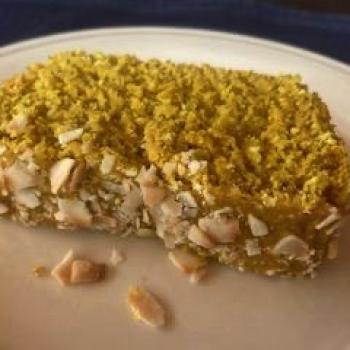 I adapted this recipe from Vegan Richa. Get the original recipe here.

This bread is moist and dense and not too sweet. It is perfect to have with a cup of coffee or tea in the afternoon. The color is gorgeous and the toasted coconut on top looks beautiful and is wonderfully fragrant, particularly when you are baking it. If you have ever made yourself some "Golden Milk," an ayurvedic recipe for sleep, you will notice that the ingredients in this bread mirror the ingredients for Golden Milk. Enjoy!
Ingredients
Wet:
1 cup almond milk
1/2 cup maple syrup
2 tbsp coconut sugar
1 cup crumbled unsweetened natural coconut flakes
1 tsp vanilla extract
juice of 1 lemon
Dry:
1 cup all purpose flour
1/2 cup whole wheat or spelt flour
2 tsp baking powder
1/4 tsp baking soda
1/3 tsp salt
1 tsp turmeric
1/8 to 1/4 tsp black pepper
1/4 tsp cinnamon or nutmeg (optional)
Instructions
Preheat the oven to 350 degrees F. Line a loaf pan with parchment or grease well.
Blend all ingredients under wet so that coconut flakes break down a bit to very small flakes.
In a bowl mix all the dry ingredients really well.
Combine wet and dry and mix to form a batter. Transfer the thick batter to a loaf pan. Sprinkle a tbsp or so coconut on top and Bake for 45 mins or until a toothpick from the center comes out clean.
Cool for 10 minutes then remove from loaf and cool completely. I usually cool the loaf, then refrigerate for an hour or so then slice.