Chocolate Cherry Cookies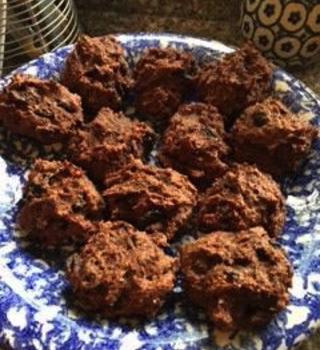 My friend Chris gave me Dr. Joel Fuhrman's new cookbook, "Eat to Live, Quick and Easy" for my birthday last spring. This is a cookbook worth having. The recipes are really healthy and quick and easy. These cookies are delicious and very nutrient dense. They pack well and are perfect to take on a bike ride or hike, or to have in the afternoon to satisfy your sweet tooth. Enjoy!!
Ingredients
¾ cup medjool dates soaked in warm water for 15 minutes
1 very ripe banana
2 tablespoons raw cashew or almond butter
1 cup old fashioned oats
½ cup almond flour
2 tablespoons cocoa powder
1 teaspoon vanilla extract
½ cup chopped dried cherries
Instructions
Preheat the oven to 350 degrees and line a baking sheet with parchment paper.
Add dates to a food processor and pulse until they are blended. Add banana and almond butter and process until combined.
Add oats, almond flour, cocoa powder, and vanilla extract and process until combined. Add dried cherries and pulse until combined. Chill dough for about 10 minutes.
Drop by tablespoons onto parchment lined baking sheet. Bake for 15-17 minutes.
Recipe from "Eat to Live Quick and Easy" by Joel Fuhrman, MD