Banana Oatmeal Cookies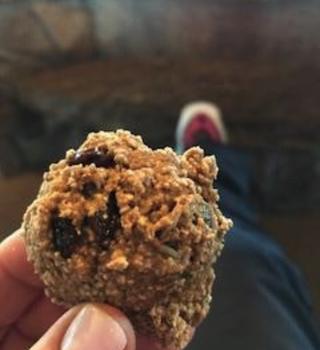 My friend Chris made me a batch of these cookies when I went to her house for tea one afternoon. I ate alot of them and decided I needed to make more! I have been taking them with me as a reqwrad after my morning ski/hike up Aspen Mountain in the morning. Nothing like enjoying a few of these beauties in front of the fire as a reward for a hard hike up. After about three of them, I feel energized and ready for my ski down.
Super easy to make and they freeze well. The recipe comes from Dr. Joe Fuhrman's cookbook, Eat to Live, Quick and Easy. You can order the cookbook here.
Ingredients
2 cups old-fashioned oats
1 teaspoon baking soda
1 teaspoon cinnamon
1/4 teaspoon ginger
4 medium ripe bananas
1/4 cup raw sunflower seeds
1/3 cup raisins
Method
Preheat oven to 300 F. Line a baking sheet with parchment paper.
Use a high powered blender to process the oats into the consistency of flour. Pour the oat flour into a mixing bowl and add the baking soda, cinnamon, nutmeg, and ginger.
Blend the bananas in the blender until completely smooth. Add to the oat mixture along with the sunflower seeds and raisins, and mix until well combined.
Use a scoop, about 2 tablespoons worth, a place spoonfuls of the dough onto the baking sheet. Use lightly moistened fingers to flatten each cookie slightly. Bake for 15 minutes.
Cool cookies on a wire rack and then store in an airtight container.