Banana Nut Blender Pancakes from Making Thyme for Health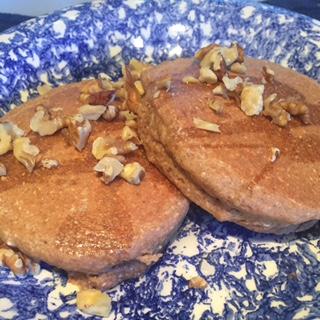 These pancakes are so easy and so fast to make! I adapted this recipe slightly from Making Thyme for Health.
Who doesn't like pancakes on Saturday morning? I know I do but I am usually trying to get the dogs walked and out the door by 8:30am to get out on my bike before it gets too hot, and pancakes can be messy and time consuming. THIS pancake is not messy or time consuming at all becuase everything except for the walnuts go into the blender.
The pancakes are fluffy and deeeelicious!! I love Making Thyme for Health. : )
I didn't use the 1/4 almond flour but went with 1 cup of oats because I am lazy and didn't want to hunt around for the almond flour.
INGREDIENTS
1/4 cup soy milk
1 tablespoon apple cider vinegar
1 medium-size banana
1 teaspoon vanilla extract
1 tablespoon pure maple syrup
3/4 cup rolled oats
1/4 cup almond flour
1 teaspoon cinnamon
2 teaspoons baking powder
pinch of fine sea salt
1/4 cup chopped walnuts
Instructions
In a measuring cup, combine the milk and apple cider vinegar. Set aside for a few minutes to curdle.
In a blender, combine the milk mixture with all of the ingredients (except for the walnuts) in the order listed. Blend on high for about 15 seconds, until the batter is smooth.
Warm a non-stick skillet over medium-low heat. For me this is between the 3 to 4 setting on my stove. You don't want to pan too hot or the pancakes will burn. Lightly grease then pour out about 1/4 cup of the batter and cook until the edges are firm enough to flip, for about 5 minutes on each side. Serve warm with pure maple syrup (and sliced banana/drizzled peanut butter, if desired), and enjoy