Baked Spaghetti with Kale, Mushrooms and Tofu Ricotta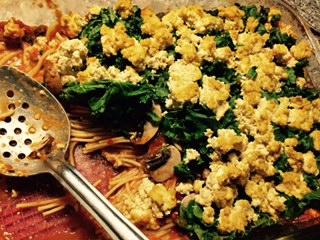 This recipe is another favorite from Alexis Joseph's food blog Hummusapien. This whips up in no time and the pasta actually comes out perfectly. The tofu ricotta is delicious and offers a nice creamy texture to the pasta. This recipe will become a regular in my house. It fits all of my criteria, it is fast and easy to put together, delicious and nutrient dense. Try it and let me know what you think!
BAKED SPAGHETTI WITH KALE, MUSHROOMS, AND TOFU RICOTTA
Packed with protein and fiber, this deliciously creamy whole grain baked spaghetti will have the whole family falling in love!
Alexis: Alexis Joseph, MS, RD, LD
Serves: 6-8
INGREDIENTS
For the tofu ricotta:
16oz extra firm tofu, drained and pressed
½ cup roasted garlic hummus
¼ cup nutritional yeast
1 tsp garlic powder
½ tsp salt
Pepper, to taste
For the baked spaghetti:
12oz whole grain spaghetti, uncooked
32 oz jar of pasta sauce
2½ cups water
8 oz mushrooms, sliced
½ bunch lacinto kale, chopped
INSTRUCTIONS
Drain and press tofu. (If you don't have a tofu press, wrap tofu in a kitchen towel and place on a plate. Cover with a couple heavy objects, like a book or two. Let sit for 30 minutes to an hour.)
Crumble pressed tofu and place in a medium bowl. Add hummus, nutritional yeast, garlic, salt, and pepper. Use your hands to combine mixture. It should be moist and resemble ricotta cheese. Set aside.
Preheat oven to 350F. Spray an 9x13in glass baking dish with cooking spray. Place uncooked noodles in the pan, criss crossed. I broke most of the noodles in half. It will look like a messy layer of noodles, and that's ok!
Cover noodles evenly with the jar of pasta sauce followed by the water. It will look soupy–that's normal.
Top with mushrooms and kale, then sprinkle small handfuls of the "ricotta" evenly on top. Season with a dash of salt and pepper.
Bake for 40 minutes. Remove from oven and allow pasta to "set" for 15 minutes prior to serving.
NOTES
Inspired by Hungry Hungry Hippie