Arman's Soft and Chewy No-Bake Chocolate Chip Cookies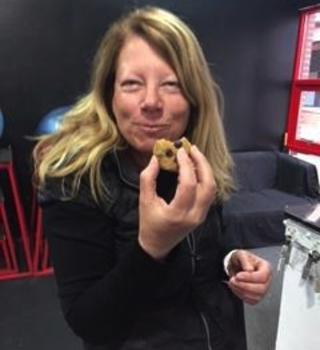 I made these cookies for my clients on Friday and OMG...they are soooo good and so super simple to make! Cookies make people happy, especially soft and chewy chocolate chip cookies. This recipe was devloped by Arman Liew and he has a wonderful cookbook out called Clean Sweets, Order it here.
Pictured here is my client Sandra enjoying a cookie. She said they taste a bit like raw cookie dough batter, you don't need to worry about consuming this raw dough because there are no eggs or dairy, just a few wholesome plant based ingredients. Enjoy!!
INGREDIENTS
• 1½ cups oat flour (I used ground old-fashioned oats, certified GF if necessary)
• ¼ cup coconut flour
• ⅛ tsp sea salt
• ½ cup cashew butter (can sub almond butter)
• ½ cup pure maple syrup
• ½ tsp vanilla extract
• ¼ cup chocolate chips
INSTRUCTIONS
1 Line a baking sheet with parchment paper and set aside.
2 In a large mixing bowl, combine the flours and sea salt. Mix well.
3 In a microwave-safe bowl or on the stove top, melt nut butter and maple syrup (I did 30 seconds in the microwave) until they are combined. Stir in vanilla extract.
4 Pour the syrup mixture into the dry mixture and mix until well combined. If it's dry, add a tablespoon of almond milk.
5 Using your hands, form the batter into small balls and place them on the lined baking tray.
Press each ball firmly into a cookie shape and top with chocolate chips. Refrigerate for 30 minutes, or until firm.