Apricot Oat Bars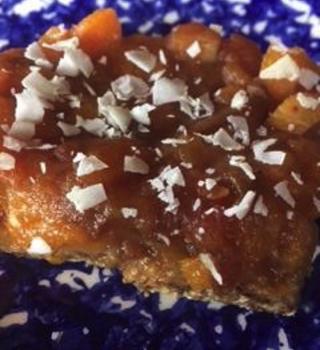 This is a recipe from one my favorite chefs, Mark Reinfeld. I love taking cooking classes from him because I always leave inspired! I was in Denver last weekend and attended a cooking demo he did and it seems he just gets better and better, he is always progressing!
I made these bars and my hubby loved them and so I brought them in for some of my clients to try and they also have them a big thumbs up.
They are sweet, though there is no added sugar and made with whole foods, so they are a perfect way to replenish your energy after a hard workout.
Enjoy!
Ingredients
Topping
1 cup chopped dried apricots
1 cup pitted and chopped Medjool dates
1 ½ cup water
1 tablespoon freshly squeezed lemon juice
½ teaspoon zest
½ teaspoon ground cinnamon
¼ teaspoon ground cardamom
1 teaspoon vanilla extract
3 tablespoons unsweetened coconut
Crust
¾ cup raw almonds
¾ cup rolled oats
1 cup raisins
¼ cup packed pitted and chopped Medjool dates
Pinch of cinnamon
Pinch of allspice
Instructions
Prepare topping: Place all topping ingredients, except the coconut in a pan over medium heat. Cook for 15 minutes or so , or until the dates break apart.
Meanwhile, prepare the crust: Place the almonds in a food processor and process until finely ground. Add the oats, raisins, dates and the spices and process until ground.
Press the crust ingredients into a parchment lined 8x8 inch pan. Forming a crust.
Pour the topping over the crust. Top with coconut. Place in the refrigerator for at least 30 minutes, or until it solidifies and then cut into bars.