Almond Date Chocolate Chip Cookies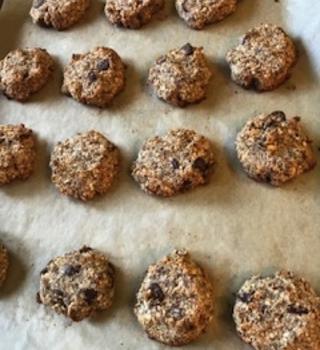 Who doesn't love a good cookie! Cookies don't have to be loaded with sugar and saturated fat. Sometimes they can be loaded with lots of good for you fiber, and plant based protein. I use 85% dark chocolate chips for these cookies but you can substitute raisins or some other dried fruit if you like. These cookies come together quickly because they are mixed in a food processor. I keep a few out and then freeze the rest to be consumed one or two at a time. Enjoy!
INGREDIENTS
6 oz ground almonds
12 medjool dates, pitted
1 tablespoon chia seeds
3 tablespoons almond milk
1/3 cup or so, of dark chocolate chips
INSTRUCTIONS
Preheat oven to 350.
Place all of the ingredients (apart from your dark chocolate chips or raisins) in a food processor and process until it forms a cookie dough.
Once mixed, add the dark chocolate chips and give it another very quick process to mix it all together.
Use a tablespoon to take a scoop of the mixture out one at a time, rolling them into balls and placing them on a lined baking sheet.
Once you have about 12 round balls, squish them down to form cookie shapes.
Bake in the oven for 15-20 minutes until golden.